Why and how should you add a "bespoke" page to your site?
Limited to a simple pop-up for standard sites, the bespoke composition is the subject of a full page for the bespoke site. To clarify, this additional page has indeed its own link (url), and its own design imagined by our graphic designers.
Firstly, you tell us what you wish to see on this page, and the products concerned;
Secondly, the LivePepper graphic designers develop an adapt design, and in addition, submit it for your validation;
Once your agreement has been obtained, the developers are responsible for implementing this dedicated page on your online ordering site.
With the "bespoke composition" page, you decide the level of personalization granted to your customers. In other words, this can range from the simple choice of the dough for a pizza. To clarify, you have the possibility of selecting all the ingredients that it is composed of, for example type of dough and crispness, sauce, cheeses and toppings. This is the case in the following example: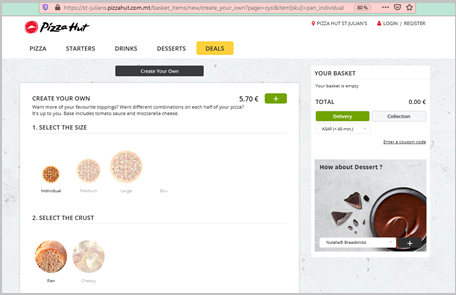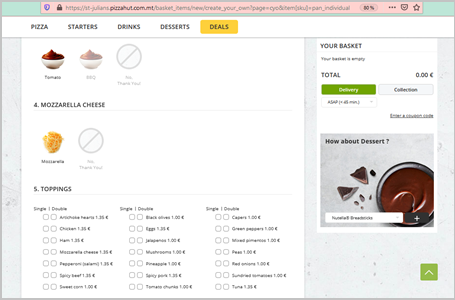 Online ordering: amongst customers, the trend is for personalization
Customers of your restaurant's online ordering site, benefit from the various possibilities offered by this personalization. They can therefore:
Choose from several bases. That is to say, the choice of pizza dough, the choice of bread for the burger, etc.;
Compose step by step their bespoke dish (base then sauce, cheeses, etc.);
Add precisely the ingredients they wish (vegetables, cheeses, meats, etc.);
Select any toppings.
In the following example, here is what the "bespoke" page gives for the customers ordering pasta: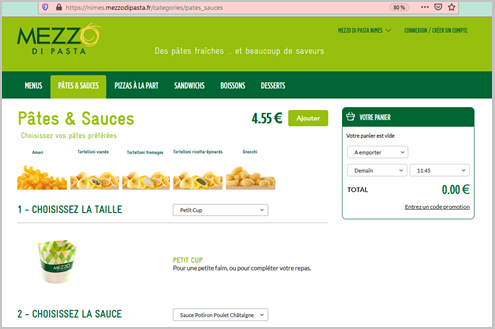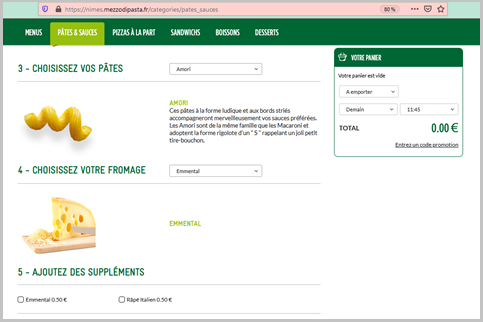 Concretely, the "bespoke product composition" feature allows you to offer to your customers a design suited to the personalization of a dish or a menu. That is to say, this design made by our graphic designers, guarantees a smooth ordering, without pop-up and with automatic price calculation. A real plus to boost your sales, especially since personalization applies to most products:
Sandwiches;
Pasta ;
Pizzas;
Burgers;
Fried noodles ;
Etc.
Therefore, the online ordering experience for your users is always easier and more enjoyable!
The only prerequisite for creating this additional paid page, is to have a bespoke site developed by LivePepper. Contact our team to set it up and optimize your customers' experience without waiting (contact@livepepper.com)!